David Batten Attorney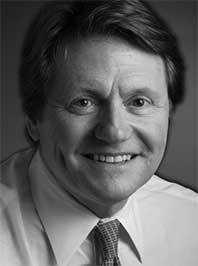 Dave defends hospital systems and doctors both nationally and locally. His cases have spanned from Anchorage to New Hampshire to South Florida. He is licensed in North Carolina, South Carolina, Georgia and West Virginia. He has represented clients targeted by multiple common suits. Recent case wins have involved cerebral palsy from a prolapsed umbilical cord, two involving strokes, and one involving an OR fire. He is included in the "The Best Lawyers in America©" in the areas of Medical Malpractice Defense, Bet the Company Litigation, Commercial Litigation, and Personal Injury Litigation. He also is listed in North Carolina "Super Lawyers©." His cases include brain damage from alleged obstetrical injury, paraplegia, strokes, flesh-eating bacterial infections and multiple amputations. Many of his trials involve future life care plans, and have ranged to $49 million.
Before concentrating on defending heath care professionals, Dave tried cases arising from workplace shootings, automotive crashes, products liability, construction accidents, and premises liability. He has argued many times in the North Carolina Court of Appeals and North Carolina Supreme Court. He successfully defended dozens of direct action punitive damage suits against employers, often in early stages, following the landmark North Carolina Supreme Court ruling, Woodson vs. Rowland. Woodson allowed workers seriously injured or killed on the job to collect workers compensation benefits and to sue directly if they could prove intentional misconduct. One jury ruled in favor of his client, an employer whom plaintiff claimed failed to provide OSHA-required fall equipment protection to a steeplejack who died after falling from a 100 foot high water tower.
Dave has won cases for businesses in other forums, including the North Carolina Business Court and the American Arbitration Association. As lead counsel in one class action, he obtained a dismissal for a Georgia company sued by thousands of recipients of the North Carolina child support system after it installed a centralized collection system for the state. Others include a Federal class action victory which rejected RICO claims against Lasik surgeons and an arbitration in a copyright infringement arbitration on behalf of his client, a North Carolina architect.
He attended UNC-Chapel Hill ('79) and Wake Forest University Law School ('83), where he was a member of the Law Review. An AV rated attorney, he has been invited to be an instructor at the North Carolina Superior Judge's Conference. He was a founding member of the Susie Sharp Inn of Court and is a member of the International Association of Defense Attorneys. Locally, he has served on the boards of Interact and the House Corporation of Phi Gamma Delta at UNC.